My mother was part of a group of feral cats in our country-suburban area who was fed by a well-meaning lady who did not take care of her other responsibilities by having her (and the other members of the group) neutered. So after I was born I had to live outside and fend for myself. I was fortunate to live in such a warm climate but the warm climate also means that we are subject to many parasites and diseases. But at least we stay relatively warm for most of the year.

For 5 or 6 years, I safely roamed thru the neighboring properties surrounding the lady's house. However about a year and a half ago the parasites and a terrible case of mange began to make me sick. I got so sick that I couldn't take care of myself or even keep myself clean. After a while the mange got so bad on my face and head that I could barely see and so I couldn't hunt or get enough to eat. Normally I'm a pretty quick fellow but due to my condition another caring lady caught me and took me to a local vet and had me neutered. Unfortunately she couldn't keep me confined and so she let me go.

The next night I was so hungry and so I sneaked thru the kitty door, into Deby and Steven's house, to steal their cat people's food and they caught me. They sent me right away to their friend Raul, who's a vet. He is a very nice man and even came in on his day off just to check me out. He gave Deby some medicine for me (shots! Ouch!) but it made my mange start to go away the very next day.

I was really glad because my eyes were swollen almost shut and I had ITCHED so much for so long. I stayed in a nice cozy cage for a few weeks while I got better and every day Deby and Steve brought me food and talked to me and petted me. The picture above was me after a month - see how sad I looked and all my whiskers were broken off. Then one day Deby took me out of my cage and carried me into her house and told me I could stay there with her and the other people who live there for as long as I want.

I am now in Kitty Heaven!! During the day I can have my pick of the sofas to sleep on and at night I patrol the house to make sure that everyone is safe. With the kitty door I can go in and out as much as I want, there is always somebody wanting to hug me and there's always a bowl of food waiting for me in the pantry. I like to hang out with Deby when she goes to the barn to take care of the horse people and then in the evening I can sit on their laps and watch TV with them, the other cat people, and sometimes Pip, the chicken.

You should see how beautiful I am now. My black fur shines and the white parts that used to be all yellow are really bright too. There are a few little spots where the mange was so bad my fur will never grow back but I don't mind them. And I now have the longest whiskers you ever saw (look at my newest picture at the top of the page). When I was sick they were all broken off but now they are so long and shiny white. And sometimes when I think about how I used to have to live and how terrific my life is now – well, I just can't stop myself from purring. I remember watching the other cat people when I was living on my own and thinking how nice it would be to be them and now I am one of them.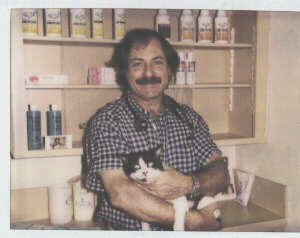 This is a picture of me and "Uncle Raul" (or Dr Mendy as he's known to his other patients), my newest best friend, who helped save my life. The picture was taken last summer when we went to visit him to show him how good I looked. If I had known that we were only visiting I probably would've had a happier look on my face. But you can tell he thinks I'm beautiful now too.

So we thought you might enjoy hearing my story. Deby has promised that I can have my own web page, just like Pip Squeek, the chicken person does. I'm now in charge of the page listing our favorite charities. If these charities have e-mail or websites you will be able to click the link to contact them.

Have a wonderful holiday and thank you for taking such good care of all of my brothers and sisters (no matter what kind of people they are).

Much love,
| | |
| --- | --- |
| ZIGGY | |
PS - You can write to me at Ziggy@ComputerChick.com